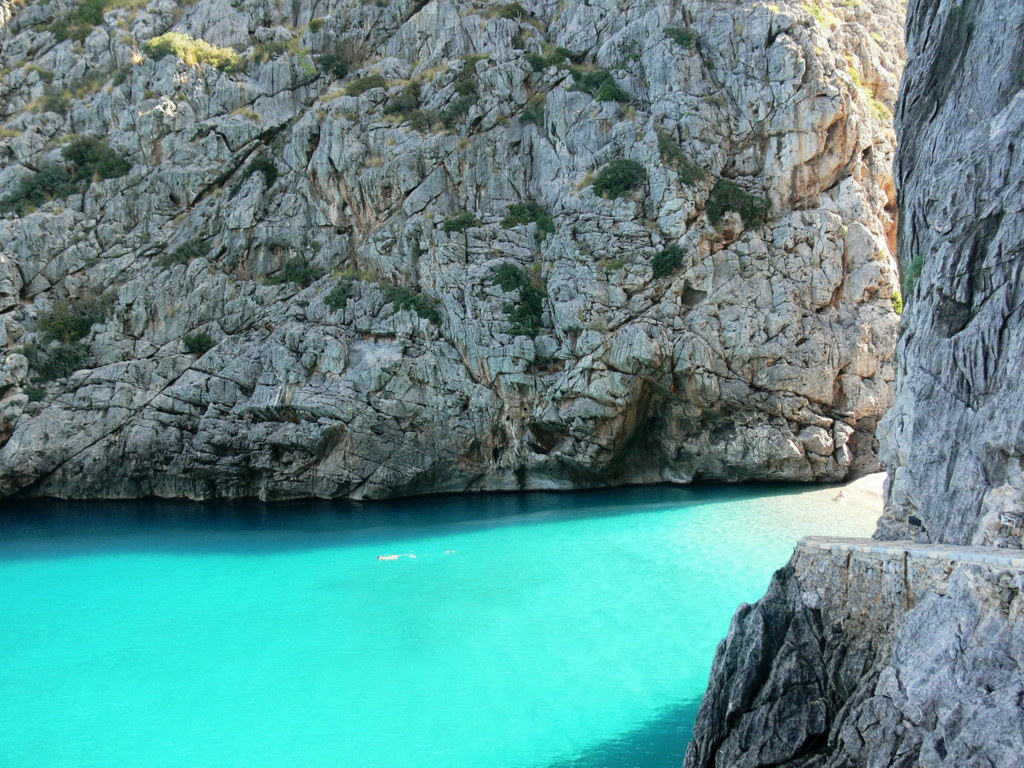 Coves in Majorca: the inspiring magic of Sa Calobra
The Serra de Tramuntana hides many beautiful areas throughout its steep and rugged mountain range.  One of these magic places is Sa Calobra, located in the town of Escorca (the least densley populated town of the whole island, with barely 2.2 inhabitants per square kilometre). There are many coves in Majorca, but this is one of the most spectacular. Sa Calobra is special for many reasons.  It is one of the few outlets into the sea of the Serra de Tramuntana. It is the result of the legendary Torrent de Pareis and which has, during thousands of years, sculpted the rock.  Nowadays, the bottom of sand, stones and pebbles of Sa Calobra is surrounded by walls reaching 200 metres high.
There are two options to reach Sa Calobra. The first and most adventurous is to go down the Torrent de Pareis, in an excursion which goes along 300 metres of cliffs. Because of its wild character and some difficult areas, most of the Majorcan mountaineers consider the Torrent de Pareis as the most extraordinary excursion of the island.  To do this excursion a good guide is always recommended as well as high boots, good physical condition and certain mountain experience. It is better to do between the months of May and October. For those seeking less of an adventure, Sa Calobra can be reached by road. Taking the road also has its unique points because there are 14 kilometres of curves, ranging from 12 to 180 degrees and one curve of 360 degrees, known as the Nus de sa Corbata (Tie knot), which drops 900 metres in altitude.  Once reached the bottom, a tunnel, bordering vertical and wild cliffs, must be crossed to reach the cove.
The magical nature of this place is proven by the fact that every month of July a choral concert is held in the cover, to take advantage of the excellent acoustics provided by the surrounding vertical walls.  An inspiring area which is an obligatory place to visit during vacation in Majorca.