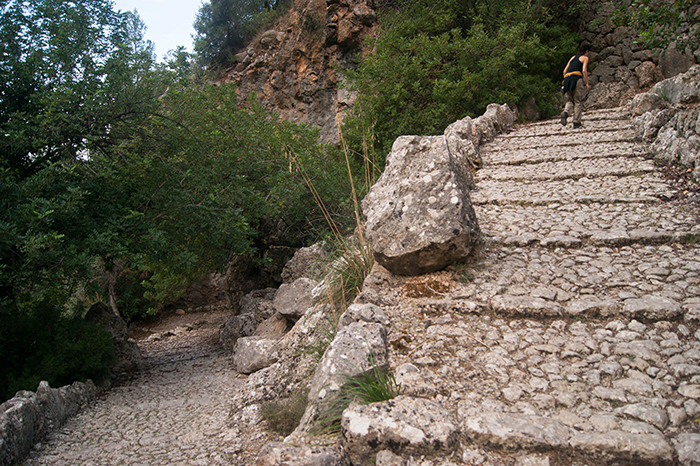 Nature and ethnography at the Biniaraix Ravine
To talk about landscape, nature and ethnography, it is to speak of the Biniaraix Ravine in the Valley of Sóller, which was declared a Cultural Interest Site in 1994. It is a perfect excursion to complement your farmhouse stay in Majorca. A mountainous olive grove, typical of the Tramuntana Range, in where it is possible to see multiple centenary trees, and elements of traditional Majorcan architecture.  The cobbled road is a magnificent example of dry stoned traditional engineering, and includes bridges, terraces built on the slopes of stunning cliffs, fountains or possession houses.
The Madonna des Barranc stands out among the trees that we find, a centenary specimen of twisted shapes and remarkable beauty, surrounded by other equally singular examples. The climb to the ravine is part of the GR 221, called The Route of the Dry stone, a long distance trail that crosses the Tramuntana Range from side to side, and a wonderful opportunity to get to know in depth one of the most beautiful areas of the island. The Biniaraix Ravine is part of the 3rd stage of the GR 221 between Sóller and la Font des Prat, starting from the village that has its same name due to an ancient Muslim farmhouse.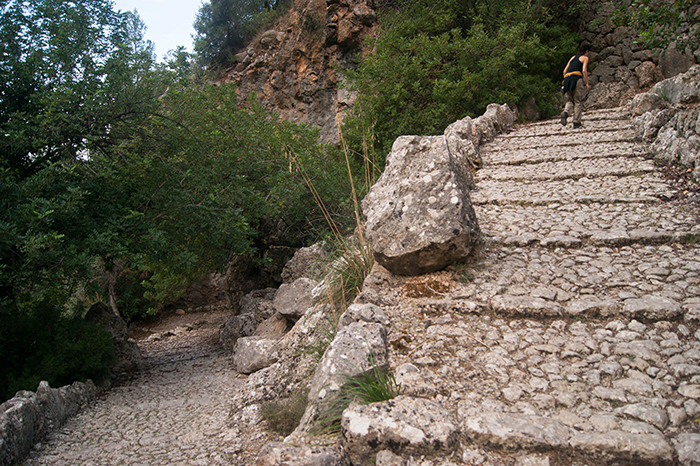 The highlight of Biniaraix town is its architecture, which is harmoniously integrated with the surrounding territory, giving it a special charm. Located on a small hill, its steep cobbled streets run between old houses of farmers and lords. From Biniaraix it is possible to visit other very charming towns in Sóller Valley such as Fornalutx, a town of steep streets with its characteristic painted tiles that are preserved on the roofs, and the Can Xoroi Museum, which is "a must". The museum preserves inside, an important collection of painted tiles and an old Almazara (ancient oil mill). A perfect excursion for an farmhouse stay in Majorca!